[10 nov 2023]
10 Tiny Reasons Why You're Getting No Work Done This Morning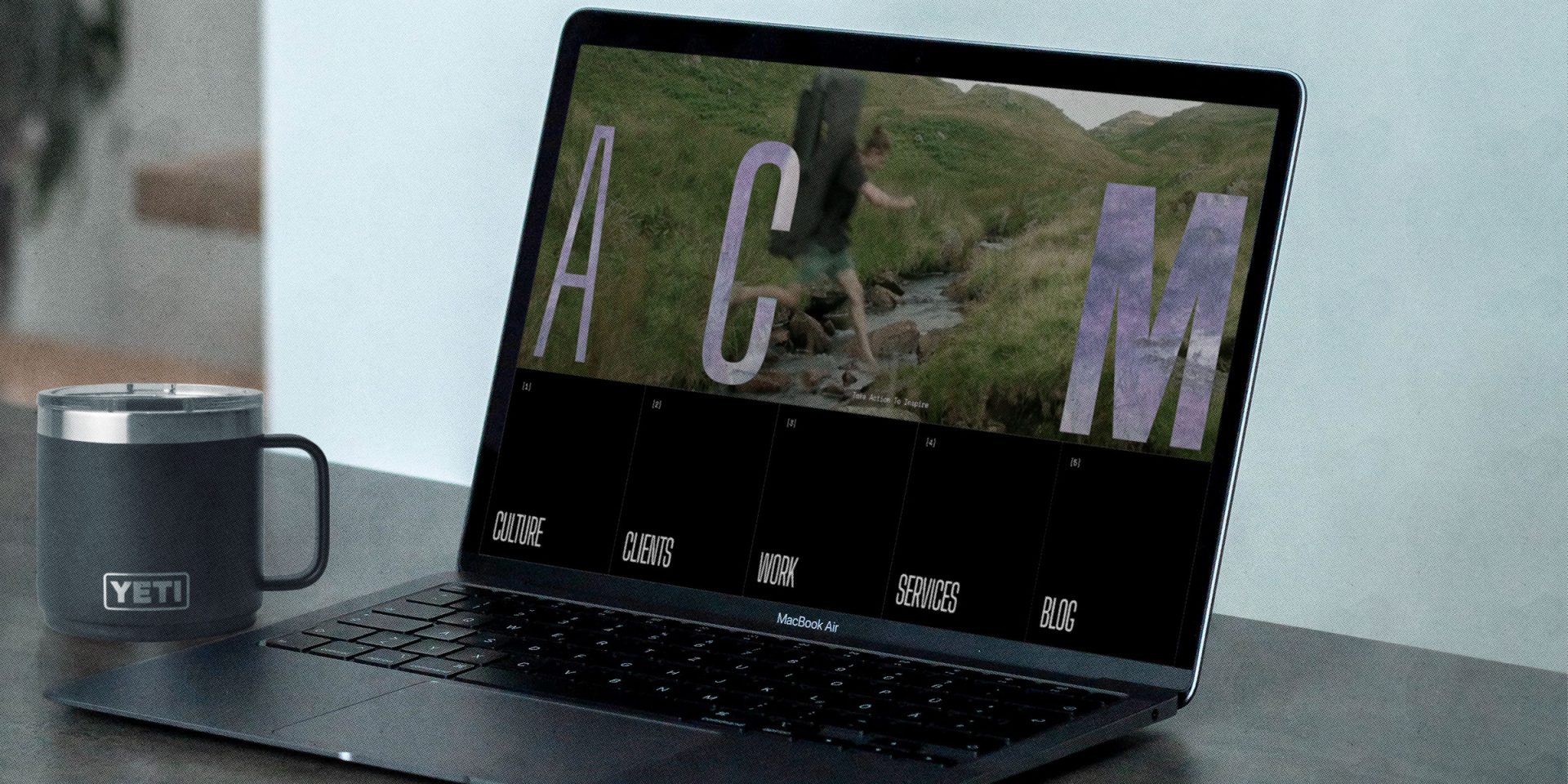 7 NOVEMBER 2023. 11:31AM. A TUESDAY. COULD USE ANOTHER BREW.
This tiny crack of time in the universe's great grand plan will mean nothing to 99.9% of the planet's population. But it's now a "remember where you were?" moment for us. (Sat at our desks, looking at a tired little teabag in the bottom of a YETI while slamming the 'Reload this page' button on Safari, FYI.)
Check the timecode of any ACM inbox, and you'll see that this is when we finally – finally – got the five tiny words we've been waiting for all year.
The. Site. Is. Now. Live.
It's been 39 weeks since we first teased our huge 2023 rebrand, with a quiet little Instagram post that got our news out there in a big way. Since then, we've given every single element of the visual ACM identity an overhaul, from our logos to email signatures to the storage room posters nobody will ever see. We've adopted a whole new brand mantra: Take Action To Inspire. We've shifted our tone of voice, going big and bold, and eradicating all wafty jargon. We've produced an agency hype reel with a soundtrack that we can still hear in our dreams. And now we've banged the final piece of the 100,000-piece puzzle into place, with a website that'll blow your BT Home Hub 2.0 into orbit.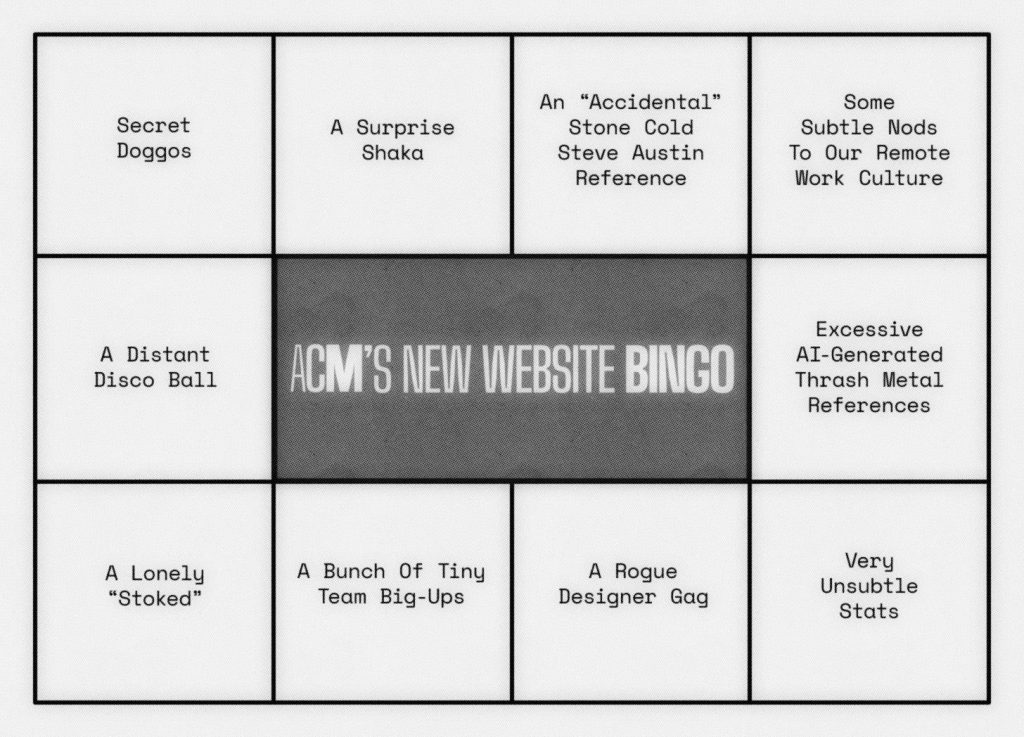 This is the part where we invite you to get stuck in. To click the link, fire it up, and drive it like you stole it. To use our fun (read: agonised over) side-scrolly thing and read our case studies (the fifth version of them, we might add) like their days are numbered. And then to shower our efforts in praise in the comments.
"Go on then, where's the link?" you're thinking. Well, it's all the way down there, past the very content this already-over-the-word-limit intro is building up to. Sneakily stashed away so you have no choice but to read through / play digital bingo with ten easy-to-miss microdetails that show just how much effort has gone into our build, and that make us unapologetically proud of what we've done.
1. More Secret Doggos Than You Can Shake A Half-Eaten Stick At
Seven of them in total, from a half-snoozing pug in our hype reel to our currently-maternity-leaving Senior Account Director Lyndsay's dog GOATs Moro and Akira, hidden away in one of our case study galleries. It's a tough call for the title of Bestest Boy or Goodest Girl, but the crown goes to ACM's remote pooch and official mascot, Peg. His habit for mistaking cuckoo calls for the doorbell – as regaled in our FAQs – deserves a round of applause. Or is it… a round of a-paws? [note: sleep on this before you publish it.]
2. A Surprise Shaka
Expensive research tells us that only 10% of the adult population will spot the sneaky shaka on our Finisterre work page. This percentage increases to 12% if you were born outside of the M25, and 17% if you like your coffee black with one sugar. Don't ask us. It's science.
3. An "Accidental" Stone Cold Steve Austin Reference
Our copy editor swears blind the reference to the six-time WWE Championship belt winner and three-time Royal Rumble victor (1997, 1998, 2001) in our adidas Cycling work entry was a subliminal slip. His habit for loudly "opening a can of whoop ass" on our LinkedIn updates and social captions tells us otherwise.
4. Some Subtle Nods To Our Remote Work Culture
Fun fact: this one is nicked from very-nice-smelling coffee table mag, Monocle (aka the mag you only ever buy in airports). Their team is spread far and wide across the world, as neatly proven by each member's location being revealed alongside their name in the masthead. We liked that. So we nabbed it. Go find our Culture page to see who's currently honeymooning in the Patagonian Andes.
5. A Distant Disco Ball
Ever been to a party with a disco ball that you didn't like? Apart from that one. Okay, yeah, and that one. Just know we've plugged ours into the Blog page. Squint and you'll spot it.
6. Excessive AI-Generated Thrash Metal References
While we have managed to rein in our editor's overuse of the word "stoked", not even the apocalypse can stop our copy being pumped with references to hot brews, the now-famous phrase "wafty jargon", and a battery of thrash metal references. Some may argue that this tinnitus-inducing in-house gag is a thing that should not be, but as much as we try to seek and destroy all those Metallica mentions, we always seem to find one. Or, in the case of our AI-generated Danner case study, hundreds. Sad, but true.
7. A Lonely "Stoked"
See? A single "stoked" to hit our stringent quota, halfway down our Services page. Not bad for a bunch of action sports obsessives. Well done us.
8. A Bunch Of Tiny Team Big-Ups
Whether it's co-founder Jojo managing to score some knee-high peelers at Watergate Bay before taking her kids to school, or account executive Josty nailing a bouldering project in Fontainebleau, we're never short of opportunities to celebrate our team's active achievements. There's an unashamed humblebrag tucked into our adidas Running stats that no other agency on the planet can claim.
9. A Rogue Designer Gag
Average designers aren't exactly famed for their witty writing. Our Italian font-a-saurus, pantone mastermind, and wizard of visuals, DC, is no average designer. As well as rocketing our site into the god leagues with his multi-talented creative mastery, he's dropped his own little pops of copy where you least expect them – such as in a Finisterre case study caption. DC also has a black belt in karate, cooking skills to make your Nona jealous, and speaks multiple languages. Yeah, he's one of those guys.
10. Numerous Wild Stats
Many of our numbers, like 1,245, 182 million, and, er, INFINITY, aren't very under-the-radar or missable. And a handful, it could be argued, aren't exactly rooted in research at all – we might not be able to show hard proof that 230 ribeye steaks are consumed at press dinners every week, for example. But we stand by all of them, even the 41.22357887,73.8452269 you'll find in our H&M Move case study. Any idea what that's about? Answers in the comments, and Danners for life if, without peeking, you guess correctly.