[30 jun 2023]
ACM's Outsider Insiders: Tom Kay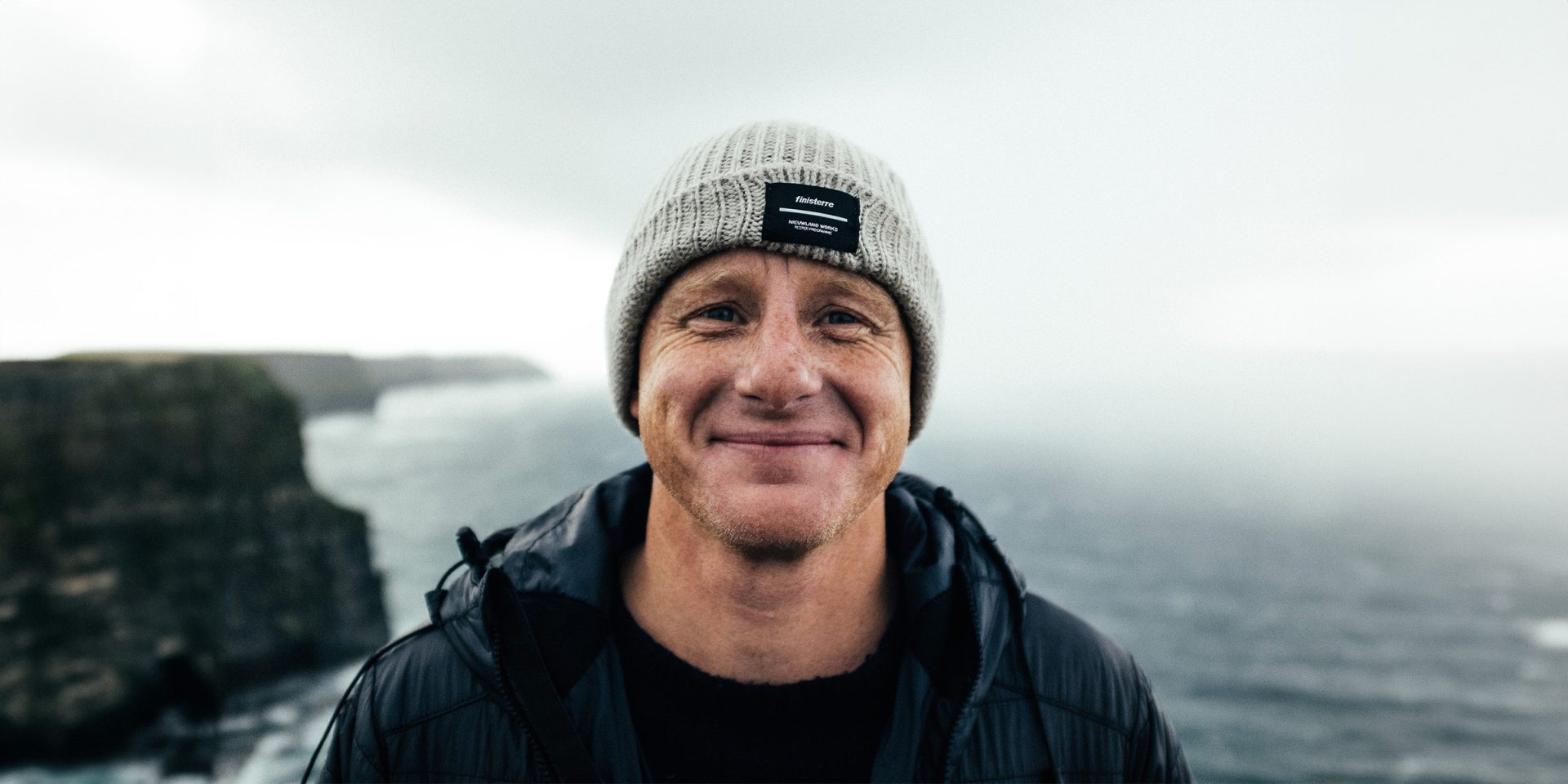 In our new series, we speak to ACM's network of folk shaping the creative and outdoor industries we call home. First up, Finisterre's founder on fly fishing, feather plucking, and fighting for change
We're not entirely sure, but we might be going Norwegian salmon fishing with Finisterre.
There's quite a lot going on at the back of founder Tom Kay's office on the wave-pummelled north coast of Cornwall. There are piles of books. Drawings by his kids. A very impressive shelf of whiskies and local non-alcoholic spirits. And, in a frame, a palm-sized salmon fly, instantly recognizable from its single hook and dash of soft black feather barbs that curl back at the tail like a pompadour's cowlick. Underneath it is scrawled: "The Finisterre, for Tom".
"It's cool, isn't it," he says, reaching back to bring it a little closer. "There's a guy up in Scotland called Colin Macleod. He's a really good musician, surfer, and fisherman – he looks after the fishing passes for a river on the Isle of Lewis. We hung out, and I think I gave him a wetsuit. In return, he made me this salmon fly, designed for the river he looks after."
Tom's chatting to us after being subject to an hour of ACM copywriter Chris' questioning for an upcoming newspaper profile. The fly is clearly one that he's never taken anywhere near water. But the bundle of rods propping up the wall behind him suggests he does know his way around a fly box and a riverbank.
"Some of those are props for a shoot we did in Norway," he says, pulling another frame off the wall. This one houses what looks like an old Californian Gold Rush photo: a black-and-white shot of a gang of mates in some classically rugged Finisterre woollens, huddled around a smoky stove and canvas tent in the Norwegian wilderness. "The surf is good there, but the fly fishing is brilliant."
A fact proven by the two freshly caught bars of river silver also in shot.
"We were camping right by the river. It was only about four metres wide. I hooked into this salmon that had come up with the rain, and it took me right down the river, onto the beach, and out into the surf. I had to land it in the waves. It wasn't massive, but it was so silver and so fresh. It was probably the best fish I ever caught there. Man, we should go!"
Fly fishing, Tom mentions, was a favourite pastime when Finisterre was little more than a three-page website, a comfortable sofa in a flat above a surf shop, and a deep belief in making quality products connected to the sea in a more sustainable way.
Things have grown a bit.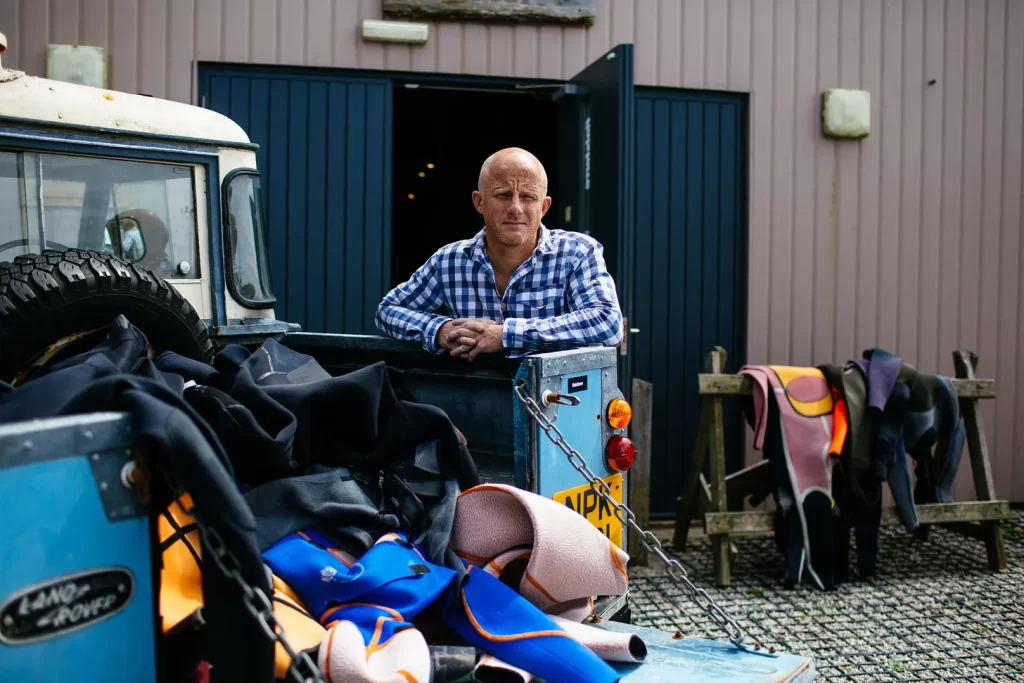 Twenty years on, B Corp Finisterre is one stunning clifftop HQ, ten retail stores, and numerous innovations better off, with plenty more to come. And we're dead proud and excited to be helping to drive that growth as Finisterre's new communications agency.
"For me, the startup mentality I had twenty years ago still exists in Finisterre today," says Tom. "Sure, it's exhausting and exciting at the same time, but driving for constant change proves how much more work can still be done."
Our Finisterre gig is one we won not only with our track record for sustainability messaging, creative ideas, and unparalleled experience of authentic storytelling in the outdoors, but with the close alignment in company culture that exists between us, and a shared belief in taking action to inspire.
A belief that we explored with Tom once our lengthy exchange of riverbank war stories had run its course…
People inside our outdoor and surf communities and industries are there because they love being there. It's a privilege to spend time in these places and to feel welcomed, and hopefully, these individuals take inspiration from that. But it's clear that more people need to take that passion and use it to drive change.
There's a bit of complacency in the surf industry. There's an attitude of, "We're surfers, we're connected to the sea, we know what's going on and what needs to change." And that's fine, but it's not enough; you still need to be an agent for that change.
The issues out there are bigger than me, you, Finisterre. There is an overwhelming number of causes to feel passionate about, and it's genuinely daunting. But you have to believe that as an individual, as a group of individuals, as a business, or as a brand, you have the ability to drive and inspire change.
A lot of these conversations are difficult ones to have, but we must have them. There needs to be more community support for those who are having them, as opposed to jumping onto social media and being unpleasant behind a keyboard; it's a blocker to people joining a conversation constructively.
Go into those spaces that you love. Take inspiration from them. Stand up for them. Protect them. And be vocal about the change that you want to see.
We've always done this as a brand. Finisterre was doing it when it was just me working in a flat above a surf shop, and we're still doing it now, 20 years on, with ten stores around the country. We are a good example of living that mantra, and I can confidently, and very proudly, say that.
But I also know we're not perfect. We've still got a way to go.
I'm seeing amazing work around ocean and surf therapy. There's Waves For Change, The Wave Project, and a whole bunch of new ones in Newquay. People are using what they have, and what surfing has given them, to give back and break down barriers. These aren't giant organisations – they're groups of four or five people who've joined up in the belief that surfing and surf therapy are good ways of helping a multitude of issues.
There are so many examples of groups that have been brought together by one strong individual with an idea. Now they're bringing about the change that they want to see, and that often means traditionally marginalised communities being welcomed into the water.
"Never doubt that a small group of thoughtful, committed citizens can change the world; indeed, it's the only thing that ever has."Hold on to this Margaret Mead quote. If you believe it, you will gravitate towards like-minded people, and to a place or platform where your voice can be amplified and heard.
Tom Kay: A Résumé
Ever wondered what kind of work experience gets you a top job in the outdoors? Here's one way of doing it…